Peg Caldwell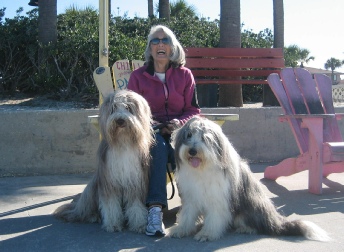 We welcomed our first Beardie to the family in 1974 before the breed was recognized by the AKC. I had always wanted the shaggy dog on the old Ken-L-Ration dog food bag and it took several calls to the company to find out it was a Bearded Collie. We've had eight Beardie family members along the way and today my husband Kevin Cronin and I have three Beardie boys. We feel so lucky to have found this breed and the people who live with them.
We're members of the BCCA, CBCC and the BCCCF and I'm treasurer of the Florida club. We help with rescue and are currently on a steep learning curve to herd with our younger dog.
I studied math and physics and worked for IBM for 25 years in technical sales, marketing management and as Vice President in Personal Computer sales and support. After moving to Florida I spent 7 years in executive management at Tech Data Corporation, an international distributor for technology products. While in New York, I served on the national board of the Girl Scouts of the USA.
I am passionate about the health of the breed and have encouraged Beardie families to support the OHR. Whether we breed or not, I think we each have a responsibility to help ensure a healthy future for Beardies. A comprehensive and open health registry can help lower incidence of inherited disease and shows our commitment to the breed.