Linda Aronson, DVM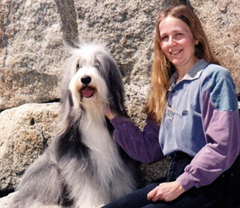 dvm@petshrink.com
Linda got her first Bearded Collie in 1987, has owned 9 bitches and two dogs, and has bred 6 litters as well as standing her males at stud. Prior to her involvement with Beardies she had Border Collies and an Afghan Hound. Currently she has one male and one female bearded collie and a Havanese. Her dogs receive regular CBC/biochemistry profiles, thyroid panels and CERF exams. They are tested for brucellosis prior to breeding, and have been evaluated for hip dysplasia (OFA and/or PENNHip) and von Willebrand Factor. Linda organized the study of the MDR1 (multiple drug resistance) mutation testing of Beardies at the 2006 specialty in conjunction with Dr. Katrina Mealey of Washington State University – all Beardies tested were clear of the mutation. Linda shows in conformation, herding and agility. She does community outreach work with her dogs. Many hours are spent each day advising people on health and behavior issues affecting their Beardies. She has degrees in physiology and is a veterinarian with a referral practice treating behavioral problems of dogs, horses, cats, and zoo animals. She lectures and writes on behavior as well as other veterinary topics.
Linda was a member or chairperson of the BCCA Health Committee from 1989 to 1998 and conducted the first health survey (1990-92). She was president of the Minuteman Bearded Collie Club (1999-2002). She was BCCA member of the year for 2004. She was chair of the BCCA Health Committee from October 2004 through June 2011. She is Vice President of BeaCon.
Linda's DVM is from Tufts University Veterinary School, and she is involved in on-going research projects at the school. Her BA and MA are from Oxford University. She also has published papers on the psychophysics of vision among other topics.